Kate Ogata inherited a love for fashion designer Rebecca Minkoff from her mother, who taught her to search for deals on clothing so she could afford to splurge on the designer's pricey handbags.
For years, Ogata carried around a secondhand Minkoff purse before getting her own gray "morning-after bag" with silver hardware when she was 21. She can identify the designer's signature bag by its accents from a mile away.
Ogata never would have predicted that her designer devotion would send her to Mercedes-Benz Fashion Week in New York for Rebecca Minkoff's 2013 spring runway show on Friday, putting the 24-year-old boutique manager in the same theater as influential fashion insiders and all manner of celebrities, from Olympians Sanya Richards-Ross and Ryan Lochte to actors Hailee Steinfeld and Kristin Chenoweth.
"It's a once-in-a-lifetime opportunity. How often do you get to see a runway show in person?" Ogata said as she sat in Lincoln Center, the main venue for the biannual week in which brands unveil their collections for next season.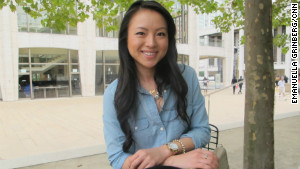 Kate Ogata won entrance to Fashion Week's Rebecca Minkoff runway show with her lucky shots on Instagram.
Ogata wouldn't have made it to fashion's holy grail this year without a little help from modern technology. Last month, Minkoff encouraged fans to Instagram images of how they "rock" the designer's styles. Ogata responded with images of her favorite bags with the hashtag #RMCatwalk and won two tickets to the Rebecca Minkoff runway show. The prize didn't include airfare, so with the help of her mother, Ogata scrounged up enough money to visit New York from San Francisco with her older sister for three nights so she could attend the show.
scrolling="no" frameborder="0″ style="border:none; overflow:hidden; width:90px; height:27px;" allowTransparency="true">
data-text="Social media bring fashion to the masses" data-url="http://themachinenetwork.com/2012/09/social-media-bring-fashion-to-the-masses/"
data-via="" >